GIST Innovates Ukraine - Spring 2020
GIST Innovates Ukraine is an accelerated eight-week training program modeled after the Lean Startup methodology. Through an intensive customer discovery process, participants quickly identify and evaluate opportunities and make informed decisions on how best to move their idea forward. The program aims to provide innovators with the training, mentoring, and resources they need to bring their ideas out of the lab and into the market.
---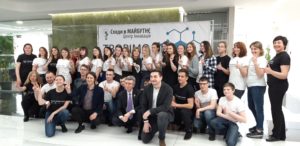 Biotech Startup School - April 22-26, 2019 
Aspiring young entrepreneurs and innovators with ideas for biotech startups learned how to work in teams, create a brand, and find investors in this week-long program held in the picturesque Pushcha-Vodytsia neighborhood of Kyiv.