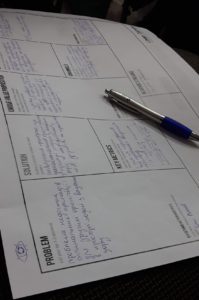 Twenty-seven Ukrainian students and their supervisors gathered in the historic Pushcha-Vodytsia neighborhood of Kyiv in late April for a week-long Biotech Startup School. The aspiring innovators and entrepreneurs formed teams and learned from professional trainers how to create a business model canvas, prepare a project budget and communicate with potential investors.
Ones of the highlights for the students and teachers alike was a tour of Yuria-Pharma pharmaceutical company, where the students had a chance to visit a working laboratory.  They capped off the intensive week with a relaxing bonfire, where they sang Ukrainian songs and roasted marshmallows.
At the end of the program the teams pitched their ideas to a jury of scientists, finance and marketing professionals and received certificates and books to inspire their professional development.
Organizers:
Junior Academy of Sciences of Ukraine
US-Ukraine Biotech Initiative
UF Incubator is the business incubator of the Junior Academy of Sciences of Ukraine aimed at providing students who want to commercialize their science or research with training, mentoring and coaching. They provide practical skills in how to find investment, how to use crowdfunding platforms, and help to present projects. The premises are currently under renovation and will have lecture rooms and a prototype lab.