VIRTUAL EVENTS - 2020
---
https://www.asas.org/meetings/annual-2020
The virtual meeting will provide an opportunity for animal scientists from across the field to gather virtually for four days of inspiration and community focused on cutting edge animal science research.
Registration deadline: July 16, 3 pm Central Time (11 pm Kyiv time)
---

https://plantbiology.aspb.org/
-Live and on-demand sessions to benefit attendees from all time zones
-Exclusive access to the Plant Biology 2020 Worldwide Summit on-demand repository of talks and poster presentations for viewing up to one year (only available to conference attendees)
-Live question and answer feature to engage with the speaker during sessions
-Live chat feature to engage with other participants within your session room
-Networking chat rooms and video meetups with colleagues, friends, or future collaborators
-Opportunity to chat & meet with exhibitors
-Opportunity to explore the Virtual Poster Hall and meet poster presenters
-A Virtual Career Fair
---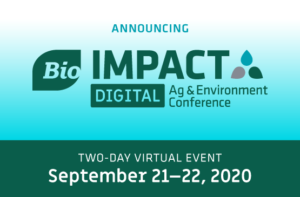 BIO IMPACT Ag & Environmental Digital - September 21-22, 2020
https://www.bio.org/events/bio-impact-digital
For 2020, BIO IMPACT Digital will transition to a comprehensive two-day virtual education and partnering event. This virtual gathering of the global agriculture and environment biotech industry will take place September 21-22 and deliver a critical business development, educational and networking experience for all attendees. BIO IMPACT Digital will help global leaders in agriculture and environmental biotech stay on top of the biobased breakthroughs transforming our world.
---

https://www.algaebiomasssummit.org/
Produced by the Algae Biomass Organization, the Algae Biomass Summit has become the go-to conference for commercial algae producers, the scientific community, and algae product developers that are unlocking the potential of algae agriculture to provide a more sustainable source of food, feed, biofuel, nutritional supplements, water treatment, advanced materials like plastics and foams, pharmaceuticals and more.  This year the virtual Summit will explore the theme: Algae 2020 – Sustainable, Scalable Solutions.
---

The series of BIBE Conferences, founded in 2000, is the longest-running IEEE Conference of its kind, inspiring many similar venues. The 20th annual IEEE International Conference on Bioinformatics and Bioengineering aims at building synergies among the complimentary disciplines of Bioinformatics, Bioengineering and Biomedical. These synergies have delivered advances for understanding a wide range of complex issues and problems in the fields of medicine, bioengineering and biological systems, health environmental science, public healthcare, food, forensics, wearable and assistive devices and more. These fields have improved the human condition by helping us understand living organisms at multiple levels, developing innovative implants and bio-prosthetics, and by improving tools and techniques for the detection, prevention and treatment of diseases. The BIBE series provide a common platform for the cross fertilization of ideas, and for shaping knowledge and scientific achievements by bridging these disciplines into an interactive and engaging forum.
Paper submission deadline: June 30, 2020
---

https://meetings.cshl.edu/index.aspx
| | | |
| --- | --- | --- |
| Meetings and Courses | Dates | Abstract due |
| COVID/SARS CoV2 Rapid Research Reports #1 (Virtual) | Tue Jun 16 - Wed Jun 17 2020 | |
| Glia in Health & Disease (Virtual) | Thu Jul 16 - Sun Jul 19 2020 | Fri May 15 2020 |
| COVID/SARS CoV2 Rapid Research Reports #2 (Virtual) | Tue Jul 21 - Wed Jul 22 2020 | |
| Mechanisms & Models of Cancer (Virtual) | Tue Aug 11 - Fri Aug 14 2020 | Fri Jun 19 2020 |
| Genome Engineering: CRISPR Frontiers (Virtual) | Wed Aug 19 - Fri Aug 21 2020 | Fri May 29 2020 |
| COVID/SARS CoV2 Rapid Research Reports #3 (Virtual) | Tue Aug 25 - Wed Aug 26 2020 | Tue Jun 30 2020 |
| Single Biomolecules and their Cellular Context (Postponed to 2022) | Tue Aug 25 - Sat Aug 29 2020 | |
| Translational Control (Virtual) | Tue Sep 1 - Fri Sep 4 2020 | Fri Jun 12 2020 |
| Molecular Mechanisms of Neuronal Connectivity (Virtual) | Tue Sep 8 - Fri Sep 11 2020 | Fri Jun 19 2020 |
| Epigenetics & Chromatin (Virtual) | Tue Sep 15 - Fri Sep 18 2020 | Fri Jun 26 2020 |
| Mechanisms of Aging (Virtual) | Tue Sep 22 - Fri Sep 25 2020 | Mon Jul 6 2020 |
| Germ Cells (Virtual) | Tue Sep 29 - Fri Oct 2 2020 | Fri Jul 10 2020 |
| Transposable Elements (Virtual) | Tue Oct 6 - Fri Oct 9 2020 | Fri Jul 17 2020 |
| Gene Expression and Signaling in the Immune System (rescheduled) | Wed Oct 14 - Sun Oct 18 2020 | Fri Jul 24 2020 |
| Microbiome (Virtual) | Tue Oct 20 - Sat Oct 24 2020 | Fri Jul 31 2020 |
---

https://coursesandconferences.wellcomegenomecampus.org
Conferences
Science Policy: Improving the Uptake of Research into UK Policy (Virtual)
24 - 26 August 2020
Deadlines (at 23:59 UTC): Registration deadline 17 August
Reproducibility, Replicability and Trust in Science (Virtual Conference)
09 - 11 September 2020
Deadlines (at 23:59 UTC): Abstract deadline 04 August; Registration deadline 01 September
Genome Informatics (Virtual Conference)
14 - 16 September 2020
Deadlines (at 23:59 UTC): Abstract deadline 21 July; Registration deadline 07 September
CRISPR and Beyond: Perturbations at Scale to Understand Genomes (Virtual Conference)
22 - 25 September 2020
Deadlines (at 23:59 UTC): Abstract deadline 21 July; Registration deadline 15 September
Genomic Imprinting – from Biology to Disease (Virtual Conference)
28 - 30 September 2020
Deadlines (at 23:59 UTC): Abstract deadline 21 July; Registration deadline 21 September
Plant Genomes in a Changing Environment (Virtual Conference)
12 - 14 October 2020
Deadlines (at 23:59 UTC): Abstract deadline 01 September; Registration deadline 05 October
Exploring Human Host-Microbiome Interactions in Health and Disease (Virtual Conference)21 - 23 October 2020
Deadlines (at 23:59 UTC): Abstract deadline 08 September; Registration deadline 13 October
Antimicrobial Resistance – Genomes, Big Data and Emerging Technologies (Virtual Conference)
04 - 06 November 2020
Deadlines (at 23:59 UTC): Abstract deadline 08 September; Registration deadline 28 October
Epigenomics of Common Diseases (Virtual Conference)
18 - 20 November 2020
Deadlines (at 23:59 UTC): Abstract deadline 22 September; Registration deadline 11 November
Mitochondrial Medicine (Virtual Conference)
30 November - 02 December 2020
Opens soon – Email for updates | View 2019 event page
Courses
Genetic Analysis of Population-based Association Studies (Virtual)
21 - 25 September 2020
Deadlines (at 23:59 UTC): Application and bursary deadline 16 July
Working with Protozoan Parasite Database Resources (Virtual)
05 - 09 October 2020
Deadlines (at 23:59 UTC): Application and bursary deadline 06 August
Next Generation Sequencing Bioinformatics (Virtual)
19 - 23 October 2020
Deadlines (at 23:59 UTC): Application and bursary deadline 13 August
Molecular Pathology and Diagnosis of Cancer (may go virtual)
22 - 27 November 2020
Deadlines (at 23:59 UTC): Application and bursary deadline 27 August
Genomics for Dermatology (Virtual Course)
25 - 27 November 2020
Deadlines (at 23:59 UTC): Application deadline 20 October
Computational Systems Biology for Complex Human Disease: From static to dynamic representations of disease mechanisms (may go virtual)
06 - 11 December 2020
Deadlines (at 23:59 UTC): Application and bursary deadline 10 September
---
2019
Medicinal Chemistry Residential School 2019
Loughborough, United Kingdom
June 2 - 7, 2019
PTBT — Plant Transformation & Biotechnology V
Vienna, Austria
July 3 - 4, 2019
BIO World Congress on Industrial Biotechnology and AgTech
Des Moines, Iowa, USA
July 8 - 11, 2019
Gordon Research Conference — Biomaterials and Tissue Engineering
Castelldefels, Spain
July 28 - August 2, 2019
Mass Spectrometry in the Health and Life Sciences: Molecular and Cellular Proteomics
San Francisco, California, USA
August 18 – 22, 2019
International Conferences on Energy, Materials and Nanotechnology
EMN Quantum 2019
Barcelona, Spain
August 19 - 23, 2019
American Chemical Society Fall 2019 National Meeting & Expo - Chemistry & Water
San Diego, California, USA
August 25 - 29, 2019
EMBO Venice summer school 2019: Mechanism in development and evolution
Venice, Italy
August 26 – 30, 2019
BTE — Guangzhou International Biotechnology Convention
Guangzhou, China
August 30 - September 1, 2019
Global Biotechnology Congress 2019
Boston, Massachusetts, USA
September 3 - 5, 2019
EFMC-YMCS - 6th EFMC Young Medicinal Chemist Symposium
Athens, Greece
September 5 - 6, 2019
Moldmedizin und Molddent - 25th International specialized exhibition of medical equipment, pharmaceuticals and stomatology
Chişinău, Moldova
September 11 - 13, 2019
ASBMB: Serine Proteases in Pericellular Proteolysis and Signaling
Potomac, Maryland, USA
September 12 – 15, 2019
EUROPIN Summer School on Drug Design
Vienna, Austria
September 15 – 20, 2019
Hydra XIV European Summer School on Stem Cell Biology and Regenerative Medicine
Hydra, Greece
September 15 - 22, 2019
ECCE 12 & ECAB 5 — 12th European Congress of Chemical Engineering & 5th European Congress of Applied Biotechnology
Florence, Italy
September 19, 2019
10th World Gene Convention-2019 (WGC-2019)
Qingdao, China
September 20 - 22, 2019
CFP: Bioeconomics and Modern Biotechnology: Ethical, Legal and Social Aspects
Bonn, Germany
September 23 - 27, 2019
23rd International Conference on "Horizons in Hydrogen Bond Research" (HBOND2019)
Amsterdam, Netherlands
September 24 - 27, 2019
Mitochondria in life, death and disease
Herceg Novi, Montenegro
September 24 – 28, 2019
19th Annual Biotech in Europe Forum
Basel, Switzerland
September 25 - 26, 2019
9th ICBB 2019 International Conference on Biotechnology and Bioengineering
Poznan, Poland
September 25 - 28, 2019
FEBS Advanced Course: Biosystem Design: Computational and Experimental Approaches
Spetses Island, Greece
September 29 - October 7, 2019
ХІІ Ukrainian Biochemical Congress
Ternopil, Ukraine
September 30 - October 4, 2019
World Biotechnology Congress 2019
Valencia, Spain
October 1 - 2, 2019
BioImage Informatics 2019
Seattle, Washington, USA
October 2 - 4, 2019
ASBMB–BSC Symposium on the Interplay Between Epigenetic Regulation and Genome Integrity
Beijing, China
October 20 – 24, 2019
23rd European Biotechnology Congress
Zurich, Switzerland
October 21 - 22, 2019
ICBEB 2019 — The 8th International Conference on Biomedical Engineering and Biotechnology
Seoul, South Korea
October 22 - 25, 2019
ASMBMB: Emerging Roles for the Nucleolus
Kansas City, Missouri, USA
October 24 – 27, 2019
BIT's 9th Annual World Congress of Molecular & Cell Biology 2019
Singapore
October 25 - 27, 2019
7th NovAliX Conference "Biophysics in Drug Discovery | Asian Edition"
Kyoto, Japan
November 13 - 15, 2019
International Congress on Pharmacy & Pharmaceutics-2019
Kuala Lumpur, Malaysia
November 18 - 19, 2019
International Youth Science Forum "Litteris et Artibus"
Lviv, Ukraine
November 21 - 23, 2019
5th EMN Meeting on Computation and Theory
Mauritius
November 26 - 30, 2019
2nd Alpine Winter Conference on Medicinal and Synthetic Chemistry
St. Anton, Austria
January 19 - 23, 2020
64th Annual Meeting of the Biophysical Society
San Diego, California, USA
February 15 - 19, 2020
Biotecnica - Biotechnology, Life Sciences Industry Exhibition
Istanbul, Turkey
April 15 - 17, 2020
ECCE13 & ECAB6 2021 — 13th European Congress of Chemical Engineering and 6th European Congress of Applied Biotechnology
Berlin, Germany
September 19 - 23, 2021