The 7th Autumn Biochemistry School was held on Nov. 29-Dec. 1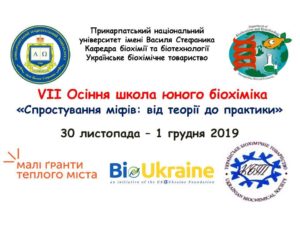 Forty 8-11 graders from western Ukraine attended the 7th Young Biochemist Autumn School that was organized by the Department of Biochemistry and Biotechnology at Vasyl Stefanyk Precarpathian National University and the Ukrainian Biochemical Society and supported by the US-Ukraine Foundation Biotech Initiative and the Teple Misto Small Grants program.
The school was geared towards students who want to become scientists or work in the fields of biology or biomedicine. Its aim was to get them interested in experimental biology, to highlight the importance of the biologist profession, and to teach them laboratory skills and safety.
The two-day course included lectures and laboratory work. The participants learned how to measure the level of nitrates in fruits and vegetables and flavonoids in coffee and tea, to determine whether citrus fruits really do have more vitamin C compared to other fruits and berries, and to make micro-preparations of bacteria and yeast. They also examined the structure of blood cells of fish and mice.
The most active students will be able to participate in departmental projects as well as carry out their own experiments under the guidance of department staff. Their projects will be submitted to the Junior Academy of Sciences science competition and the university's annual student competition.