Spotlight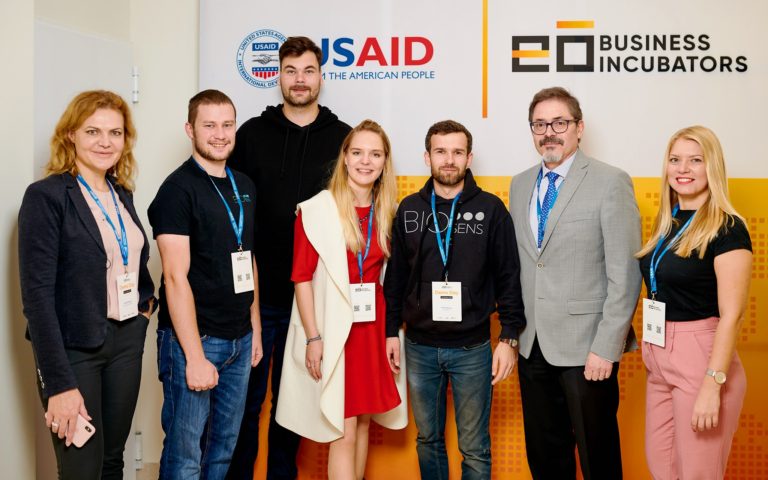 March 25, 2020
BIOsens Inc., founded in 2016, is a Ukrainian-based biotechnology start-up, which develops hardware and software solutions for analysis of food contamination The BIOsens story began in 2016, when the team took part in an IoT Hub Incubation program to realize their idea of ​​creating a biosensor that detects the presence of mycotoxins in crops. That year, BIOsens won Rockstart Answers, an event that brings together entrepreneurs working on solving local and global problems. After this the team participated in de:coded - a computer art festival in Lviv that for 3 days gathered amazing minds who work, live and breathe technology...
Read More
About BioUkraine
Through its Biotechnology Initiative, the U.S.-Ukraine Foundation aims to advance the state of biotech in Ukraine by fostering educational, research and business development in the sector and raising international awareness about biotech opportunities in Ukraine. The Foundation provides support to Ukrainian students, researchers and entrepreneurs who wish to engage with the international biotech community through educational exchanges, attendance at conferences and participation in trade shows.
Проект "Біотехнологічна ініціатива" Фундації Україна-США має на меті покращити стан біотехнологій в Україні, сприяючи освіті, дослідженню та розвитку бізнесу в цьому секторі та підвищуючи міжнародну обізнаність щодо біотехнологічних можливостей в Україні. Фундація надає підтримку українським студентам, дослідникам та підприємцям, які бажають взаємодіяти з міжнародним біотехнологічним співтовариством через освітні обміни, участь у конференціях та участь у виставках.
How to Support our Mission