BIOsens Inc., founded in 2016, is a Ukrainian-based biotechnology start-up, which develops hardware and software solutions for analysis of food contamination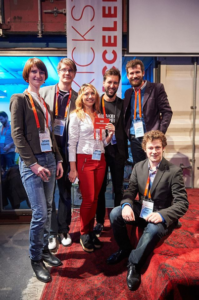 The BIOsens story began in 2016, when the team took part in an IoT Hub Incubation program to realize their idea of ​​creating a biosensor that detects the presence of mycotoxins in crops.
That year, BIOsens won Rockstart Answers, an event that brings together entrepreneurs working on solving local and global problems. After this the team participated in de:coded - a computer art festival in Lviv that for 3 days gathered amazing minds who work, live and breathe technology - where BIOsens was nominated as the "Best Pitch" by Lviv Business School. BIOsens took part in the Sensor + Test exhibition in Germany and closed out the year with the international agricultural exhibition "AGRO2016" in Ukraine. 2016 saw the startup gain many achievements.
In 2017 BIOsens won 1st place at the Intercontinental Startup Battle in San Francisco and was one of 30 teams out of 1500 applications from 86 countries selected to participate in the Kickstart Accelerator in Switzerland.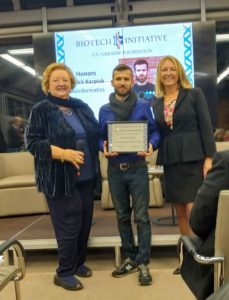 The following years were very productive as well. Team members participated in events not only in Ukraine, but also in the USA, Germany, Italy, and Switzerland, building their name recognition among international investors.
The Financial Times named company CEO Andrii Karpiuk one of 100 emerging technology stars of Eastern Europe.
In 2018 BIOsens was supported by the European Bank for Reconstruction and Development, accepted by Tech Futures Group, and received grants from CRDF GLOBAL and the US-Ukraine Foundation, which recognized CEO Andrii Karpiuk as one of its Emerging Biotech Leaders of Ukraine.
2019 started off with one of the biggest agro exhibitions in Europe - BIOFACH (Nurnberg, Germany), where two pilot projects were agreed in Belgium and Spain and one validation report was agreed in Germany. The team received a diploma from the Minister of Agriculture for participating in the Ukrainian Pavilion and promoting its organic sector.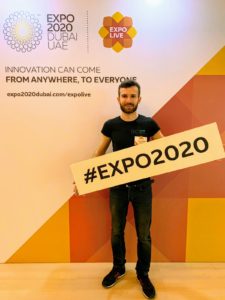 In the past three years, BIOsens has enlisted the support of many influential domestic and foreign partners.
The company has received financial support through the SME Instrument Phase 1 grant Horizon 2020 selection by the European Commission, earning the highest score of 14.29/15.00 among all Ukrainian startups receiving this grant.
Later that year, BIOsens became a finalist in the Impact Innovation Grant Program at Expo 2020 in Dubai, UAE among more than 4,600 applications from 51 countries.
2019 was filled with participation in conferences and incubators that helped the company grow its partnerships and develop its business strategy:
1) F&A Next – the team got acquainted with specialized European and global investment funds, and established personal contact with a potential client - Cargill (Netherlands);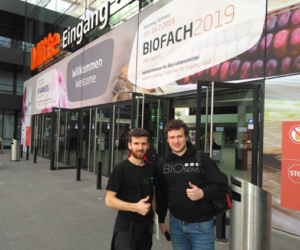 2) EO Business Incubators - BIOsens was one of eight projects selected out of 180 applications for a business incubator in Ukraine;
3) Climate Launchpad – BIOsens took part in the national final of the greenest contest in Ivano-Frankivsk to present business ideas, and started new partnerships;
4) 9th International Symposium on Recent Advances in Food Analysis (RAFA) in Prague – BIOsens made a presentation about the device "BIOsens Myco" and found new potential clients.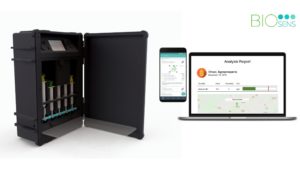 BIOsens hardware and software solutions
BIOsens has developed a portable, rapid, precise mycotoxins detection device. This unique solution is the first to provide an automated way to prepare samples of plant material (such as corn, wheat and other cereals) and analyze them on content of mycotoxins (dangerous plants diseases) within only 21 minutes and deliver results on a built-in screen or save them in the cloud.
The software part of BIOsens mycotoxin testing solution consists of a mobile app and web application.
The BIOsens device is the first device in the world which automates sample preparation, analysis and saving results in the cloud in one device and enables testing outside of the laboratory, but with laboratory accuracy.
In Q2 2020 the company will start new pilots with potential clients in Ukraine, France, Italy and the USA.
---

Right now the company is looking for investment ($1.1M) for upgrading hardware and software, preparing for mass production and starting of commercialization, communication and distribution activities.
To learn more about BIOsens, visit their website - https://sens.bio/
---