Earlier this year, Dr. Vira Hovorukha and Olesia Havryliuk, two young scientists of the Department of Extremophilic Microorganism Biology of the D.K. Zabolotny Institute of Microbiology and Virology of the National Academy of Sciences of Ukraine, spent three weeks conducting research at the University of Southern Mississippi (Hattiesburg, MS) and Oklahoma State University (Stillwater, OK). Their trip was made possible by a research grant from the US-Ukraine Foundation Biotech Initiative and CRDF Global.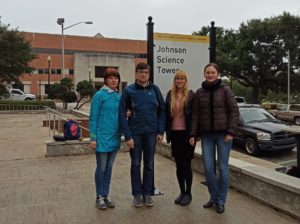 Upon arriving to the USA, it felt like we have come to another planet. Houston, Texas is the home of NASA's Johnson Space Center and the Houston airport looked like a spaceship and the street landscape resembled a window into a parallel universe as in the "Fringe" series. Here it is, America. Everything seemed new and mysterious, even the sunshine, the moon in the sky and the smell of the sea in Gulfport. People in the United States are very friendly and open to new communication. They are always smiling at passersby, saying hi and ready to help if needed.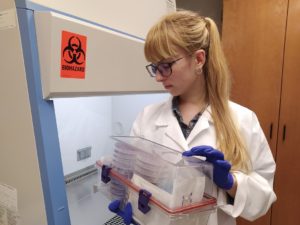 Our first destination was Dr. Dmitri Mavrodi's lab of the School of Biological, Environmental and Earth Sciences, University of Southern Mississippi. Dr. Dmitri Mavrodi is an associate professor of microbiology. The University of Southern Mississippi is a public research university with its main campus in Hattiesburg, Mississippi. The university is classified among "R1: Doctoral Universities – Very high research activity." Dr. Dmitri Mavrodi's research team is focused on the effects of biotic and abiotic factors on the structure and activity of plant microbiome. His group employs high-throughput sequencing of 16S rDNA amplicons and bioinformatics to study rhizosphere microbial communities. The molecular genetic methods and approaches used by Dr. Mavrodi have helped to characterize a unique microbial preparation that provides effective production of biohydrogen during destruction of multicomponent food waste. Prof. Oleksandr Tashyrev, the chair of the Department of Extremophilic Microorganism Biology of Ukraine's D.K. Zabolotny Institute of Microbiology and Virology, is one of the project mentors. He has optimized the composition of promising microbial preparations after 10 years of research. But only now, he and his team in collaboration with American colleagues have been able to characterize at the molecular-genetic level the major physiological groups and species of microorganisms capable to simultaneously produce biohydrogen and to detoxify rotten and environmentally hazardous food waste. We were able to study the world of mysterious anaerobic microorganisms of the Clostridium species, which can exist only in the absence of oxygen. They are dominant in the fermentation of solid waste and biohydrogen production. The determination of the species of hydrogen producing microorganisms and the application of Amplicon Sequencing Method as a highly targeted approach was an important part of the research.
We are especially thankful to Drs. Olga and Dmitri Mavrodi for making an integral contribution to our scientific work and introducing us to American culture. The gained experience will become the basis for how to properly organize our own molecular laboratory at the Zabolotny Institute of Microbiology and Virology of the National Academy of Sciences of Ukraine.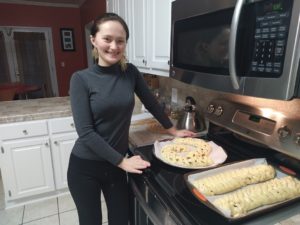 In addition to scientific experience, Dr. Olga taught us the culinary arts. Now we know how to cook classic American muffins and pies. Moreover, our families loved avocado sandwiches when we made them at home in Ukraine. Not one evening passed by without communicating with the Mavrodi family. Their dog Elsie will always be in our memories, accompanying all our culinary endeavors and being very fond of tasting something delicious. As a sign of gratitude for the training provided by Dr. Olga we cooked classic Ukrainian borshch, cabbage rolls ("Holubtsi") and Napoleon cake.
Mississippi will remain a place of new experience and vivid impressions in our memories. We attended the lectures of Dr. Dmitri Mavrodi and immersed in the mysterious world of genetics of microorganisms and bacteriophages. New Orleans captivated us by visiting the New Orleans Museum of Art, the legendary Mississippi River and celebrating the Mardi Gras Carnival. Mardi Gras is a popular cultural phenomenon that dates back thousands of years to spring and fertility rites. It's also celebrated in many countries around the world. The lasting customs of Mardi Gras include throwing beads and other trinkets, wearing masks, and eating King Cake.  We were fortunate to celebrate Mardi Gras twice in New Orleans and in Hattiesburg. We attended a Mardi Gras-style party hosted by the professor of the School of Biological, Environmental and Earth Sciences for their undergraduate and graduate students. This is a very rewarding tradition as it helps to build a friendly relationship between colleagues, improves the atmosphere of the team and increases the effectiveness of teamwork. We ate King Cake and talked about the latest achievements of world science. It was unforgettable. Such experiences would be very useful for Ukrainian scientific laboratories as well.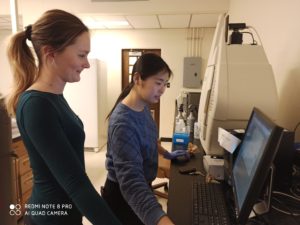 Our second destination was Dr. Patrauchan's Lab at Oklahoma State University (Stillwater). Dr. Marianna Patrauchan is an associate professor of the Department of Microbiology and Molecular Genetics, Oklahoma State University. Dr. Patrauchan's research team is focused on understanding the molecular mechanisms of calcium (Ca2+) signaling in bacteria and its regulatory role in human pathogens.
On the way to our hotel in Stillwater, we understood that Oklahoma is a combination of authentic Native and modern American culture. There are many real cowboys among the locals who still preserve and appreciate the traditions of their ancestors. The purpose of our work in Dr. Patrauchan's lab was to analyze the genomes of copper-resistant Pseudomonas strains, to determine the mechanisms of super high bacterial resistance, and to study methods of the experimental detection of gene expression in bacterial cells. We have found that our bacteria are able to transform hazardous soluble copper(II) cation into insoluble non-toxic copper compounds that is harmless to living organisms via unique copper-binding proteins. Dr. Noha Youssef taught us to analyze unique bacterial genomes. Dr. Noha is an associate professor of the Department of Microbiology and Molecular Genetics, Oklahoma State University.  Noha Youssef's lab is interested in exploring the metabolic diversities in single cell genomes of not-yet cultured Bacteria and Archaea. Dr. Youssef's team is also researching the phylum Neocallimastigomycota, the fungal phylum of the anaerobic gut fungi which play a role in plant biomass degradation in many herbivorous animals.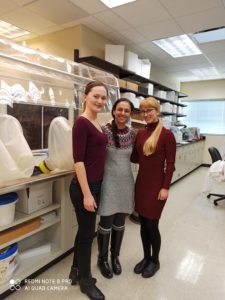 Dr. Patrauchan and Dr. Youseff helped us to find unique copper resistance genes of our strains. Even after we left they continued helping us to organize the molecular genetic laboratory in our own Ukrainian department and teaching us advanced bioinformatics techniques.
Although we were in Oklahoma only a week, thanks to Dr. Marianne Patrauchan and her team we were able to learn a lot about the culture and traditions of this state. Oklahoma means "red people" in Choctaw, and the unusual soils of the state have a fair red color due to the high iron content. Dr. Patrauchan and her husband Serge moved to the USA from Ukraine about 20 years ago. As their guests, we felt at home. Their home is very cozy and contains elements of Ukrainian culture - paintings, dishes and clothing with Ukrainian symbolism. Even some spices on the kitchen table are from Ukraine. In honor of our arrival to Stillwater, Dr. Patrauchan organized a party at which she gathered her fellow scientists and students. Since Dr. Patrauchan's team is international, we were lucky to taste the traditional dishes of different countries - Mexican soup, salsa salad, Pompano fish, etc.  Mr. Serge cooked Tobacco Chicken, the most delicious chicken we have ever tasted. At Marianna's home we became friends with a corn snake and a red cat named Rolya. These unusual cats are called Hemingway cats. They have six fingers on their paws and maybe that is why they are considered talismans of good luck for sailors and fishermen. This type of cat was once presented to the writer Ernest Hemingway. No evening after work went by without new impressions in Stillwater. We attended psychological and philosophical counseling evenings and also felt like real Americans when we visited a cafe for motorists. It is a classic American way to have a quick snack. The visit to the National Cowboy & Western Heritage Museum was a memorable day for us. We saw real cowboys and got acquainted with the history of Oklahoma.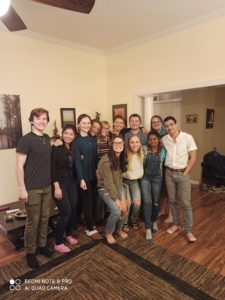 In Mississippi and Oklahoma we met young scientists from all over the world – India, Malta, Nepal, the Philippines, the United States, Iran, Sri Lanka, Japan, and elsewhere. Their experience is sure to be an impetus for us to optimize our research in Ukraine.
Many thanks to the U.S.-Ukraine Foundation's Biotech Initiative, the U.S. Civilian Research and Development Foundation (CRDF) and our American colleagues for the opportunity to conduct high-quality research and to learn about American traditions and culture.
- Dr. Vira Hovorukha and Olesia Havryliuk, Department of Extremophilic Microorganism Biology of the D.K. Zabolotny Institute of Microbiology and Virology of the National Academy of Sciences of Ukraine
---
** Read more about their research in our spotlight story - Meet the Ukrainian Scientists Developing Biotechnologies to Detoxify Environments **
---
Their article in Current Research in Microbial Sciences - Draft whole genome sequence for four highly copper resistant soil isolates Pseudomonas lacti s strain UKR1, Pseudomonas panacis strain UKR2, and Pseudomonas veronii strains UKR3 and UKR4

Olesia Havryliuk a , ∗ , Vira Hovorukha a , Marianna Patrauchan b , Noha H. Youssef b , Oleksandr Tashyrev a
a Department of Extremophilic Microorganisms Biology, D. K. Zabolotny Institute of Microbiology and Virology of the National Academy of Sciences of Ukraine, 154 Zabolotny St., Kyiv 03143, Ukraine
b Department of Microbiology and Molecular Genetics, Oklahoma State University, 307 LSE, Stillwater, Oklahoma 74075, United States of America
---