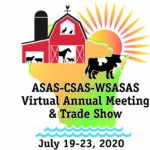 This year's annual meeting of the American Society of Animal Science took place virtually, allowing me and my colleagues at the Institute of Animal Breeding and Genetics nd. a. M.V. Zubets of the National Academy of Agrarian Science of Ukraine to join attendees from around the world in watching leading experts discuss a wide range of issues.
The week-long event featured 32 sessions, with talks and poster presentations, workshops, symposiums, a virtual exhibit hall and social program.
Of greatest interest to our institute were the sections on animal breeding and genetics which related to both meat and dairy cattle breeding, as well as other types of farm and domestic animals. The reports on genomic and marker-assisted selection were particularly useful, as these approaches are gradually developing in Ukraine.
Participation in such international events not only helps to increase the level of professionalism, but is also a good platform for improving one's foreign language skills.
Next year's annual meeting is scheduled for July 14-18 in Louisville, Kentucky.

Our institute also participated in the Society for Cryobiology Virtual Annual Meeting where we presented the results of our research on "Cryopreservation of boar spermatozoa in gene poll preservation system."
-Oksana Shcherbak, Director of Biotechnology and Reproduction Laboratory, Institute of Animal Breeding and Genetics nd. a. M.V. Zubets of the National Academy of Agrarian Science of Ukraine