Kyiv, May 16 - There was a packed house on Thursday at the Ukrainian Chamber of Commerce for the 4th annual Innovation Festival organized by the Ministry of Science and Education of Ukraine.  60 teams competed in three categories - Technology start-ups, Innovative projects and IT start-ups - for prizes from the event's partners, which this year included the US-Ukraine Foundation's Biotech Initiative.
Teams displayed their projects in the festival demo zone and then had 5 minutes to pitch their ideas on stage to a jury of business and science professionals.
Technology start-ups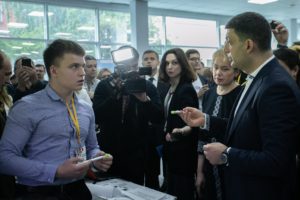 First place went to CamTouch, a portable device that allows you to turn any projector into a touch screen.  The team from Igor Sikorsky National Polytechnic University received a certificate for 100,000 UAH from Kyivstar.
In second place was MedLed, an LED blanket for the treatment of jaundice. This project from the Petro Mohyla Black Sea National University in Mykolayiv received a certificate for 100 free hours at Hub 4.0 Innovation Space.
In third was "Trembita" - a complex of dual-purpose acoustic monitoring systems developed by the National Aviation University to be used by the military to identify an object and threat level even in poor visibility or lack of visual contact. The team of developers received a certificate for free participation in the International Forum "Innovation Market" that will be held in Kyiv on Nov. 5-7, 2019.
Three other projects also received special prizes: the students from Kyiv National University of Trade and Economics who developed YEMB (Your Electronic Medical Bracelet) will have an opportunity to participate in the Innovation Market for free. The teams that created a solar portable water distiller with fresnel lens and a capillary pump were awarded certificates from YEP (a network of academic business incubators) for a three-month incubation program.
Innovative projects
The top prize went to the team from RE Kavetsky Institute of Experimental Pathology, Oncology and Radiobiology of the National Academy of Sciences of Ukraine that developed a technology of leukemic stem cells (LSC) identification for target therapy of patients with hematological malignancies.
Second place went to Smart4BioEnergy from the National University of Water and Environmental Engineering - a technology intended for treatment of municipal wastewater and recycling the energy potential of wastewater.
Third place was awarded to the group from Danylo Halytsky Lviv National Medical University that developed a device for extracorporeal hyperthermy of blood and its use in inflammatory and purulent processes of thoracic organs. They have 5 patents and the device was successful in clinical trials.
All three winning teams received certificates from UNIDO for participation in the business academy of the Cleantech Innovation Program for SMEs and Startups in Ukraine and assistance in presenting their startup to investors.
IT-Eureka start-ups
First place: Lingard - an application/platform for multilingual interactive audiobooks from the Tech Startup School Business Innovation Center of Lviv Polytechnic National University. They received a certificate for 55,000 UAH from  Sigma Software University.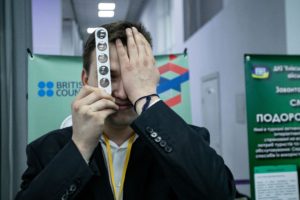 Second place: New Vision – a mobile application-assistant for interactive, personalized vision training developed by a team from Kyiv National Economic University. They received a certificate for 1,000 euros from the Polish-Ukrainian Startup Bridge.
Third place: Home Mappy - an application that helps people with poor eyesight or people with limited capacity to find things in their homes easily. The team from Petro Mohyla Black Sea National University received a certificate from Polish-Ukrainian Startup Bridge to attend a conference in Poland.
The slogan of the festival was "Scale up Ukrainian Innovations!" highlighting the focus on building international cooperation.  The importance of innovation to Ukraine's economy and future was underscored by the keynote speakers - Prime Minister Volodymyr Groysman and Education Minister Liliya Hrynevych.
The event was complemented by round tables and seminars on academic entrepreneurship, innovation and EU science programs. John DesRosier, PhD, a member of the US-Ukraine Foundation Biotech Initiative Advisory Board, gave a presentation on academic entrepreneurship in the USA and shared his more than 30 years' experience working in the field of science commercialization.