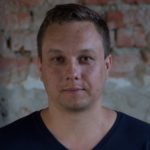 Dr. Oleh Lushchak
Assistant Professor
Dr. Oleh Lushchak is an Assistant Professor at the Department of Biochemistry and Biotechnology, Vasyl Stefanyk Precarpathian National University in the Western Ukrainian city of Ivano-Frankivsk.
Dr. Lushchak has been recognized by the U.S.-Ukraine Foundation's Biotech Initiative (BI) for leadership in his field. We sat down with Oleh to discuss his research and some of his immediate needs.
BI: OLEH, YOU HAVE QUITE AN IMPRESSIVE RESUME: YOU WERE A RESEARCH FELLOW AND VISITING SCIENTIST IN GERMANY, FINLAND, MONTENEGRO, SWEDEN AND THE US, YOU HAVE RECEIVED NUMEROUS AWARDS, ARE A PEER REVIEWER AND EDITORIAL BOARD MEMBER OF SEVERAL JOURNALS AND AUTHOR OF SOME 60 ARTICLES, REVIEWS AND BOOK CHAPTERS. YOU HAD A CHANCE TO REMAIN IN GERMANY BUT CHOSE TO COME BACK TO UKRAINE. WHY?
Oleh: You can say I'm an optimist. Everyone always says that Ukraine has potential, but I want to turn that potential into reality. The students I teach convince me every day that I made the right decision. There are young scientists all over Ukraine doing very cool work – they just need the right support, first and foremost financial.
BI: TELL US ABOUT YOUR LABORATORY. WHAT KIND OF RESEARCH ARE YOU DOING?
Oleh: The Laboratory of Aging, Age-Related Diseases and Metabolic Complications was established in 2013 at the Vasyl Stefanyk Precarpathian National University Department of Biochemistry and Biotechnology and since then we have published some 40 articles, reviews and book chapters.
We have several areas of research:
a) molecular mechanisms related to regulation of lifespan, reproduction and metabolism;
b) drugs and interventions for lifespan and healthspan extension;
c) prevention and treatment of metabolic diseases such as obesity and diabetes.
We were among the first to show that a) lifespan and metabolism are more determined by dietary protein-to-carbohydrate ratio rather than total caloric uptake; b) carbohydrate type is an important dietary factor in regulating lifespan; c) limitation of caloric uptake prevents obesity but induces oxidative stress.
We also discovered that FAE-20, a compound derived from the Carpathian Rhodiola rosea, can effectively enhance memory and improve learning capacity in different species, ranging from fruit flies to mice.
We have also a biotech project related to the development of Paulownia clones https://www.facebook.com/Lbiotech/, a fast-growing tree that can grow in Ukraine.
BI: WHAT IS THE PRACTICAL APPLICATION OF YOUR RESEARCH?
Oleh: I keep my science informed and driven by practical usage and/or aimed for improving human well-being. We use R&D pipelines to develop anti-aging, anti-obesity and anti-diabetic drugs. Our formulations are crafted to increase life- and health-span or prevent age-related pathologies such as Parkinson's or Alzheimer's.
Deforestation is a major problem in Western Ukraine. By developing clones of fast-growing Paulownia trees to grow and thrive in the Ukrainian climate, these trees could be used for enhanced wood-biomass production and soil remediation.
All my work has commercial application, while improving human health and addressing environmental concerns.
BI: IS YOUR RESEARCH DONE INDEPENDENTLY OR IN COOPERATION WITH RESEARCHERS ABROAD?
Oleh: Because our lab is limited in both equipment and reagents, the only option to perform state of the art research is through international collaboration. Most of our projects were done in collaboration with scientists abroad. Unfortunately, methods that labs in developed countries have been using for more than 30 years are not yet available in our lab.
BI: WHAT KIND OF EQUIPMENT DO YOU NEED TO DO YOUR RESEARCH IN-HOUSE?
Oleh: We need to upgrade our lab - to the basic modern level. The following set of equipment will allow us to introduce and extensively use core methods in molecular biology and genetics:
A thermocycler will be used to perform PCR reactions or synthesis of cDNA. This will allow us to test if certain fly lines are mutants or to check the specificity of plant clones.
The Biorad western blot set enables easy production of gels, performance of electrophoresis of proteins and nucleic acid with the additional possibility to transfer proteins to PVDF membranes for detection with specific antibodies.
The DeNovix spectrofluorometer is a universal piece of equipment to read absorbance and fluorescence in both cuvette and microvolumes. Thus, absorbance can be used for continuous end-point detection of varied molecules. Whether fluorescence give the possibility for direct detection nucleic acids or fluorescent dyes incorporated into molecules of interest. Measurement of RNA concentration is an important step for real-time PCR for gene expression determination.
A water purification system provides highly-purified water to be used for preparation of solutions.
A microplate reader allows to read absorbance in a set of 96 samples for small volumes in seconds. It can be used for fast estimation of enzyme activities or molecules by ELISA.
Additional equipment will substantially increase our lab's possibilities. A low-temperature freezer will allow us to store biological samples for a long time instead of using liquid nitrogen, which is difficult and dangerous to handle. Detection of mRNA level with a real time PCR machine will substantially improve the lab by adding one more important parameter – gene expression. Measuring certain sets of genes will enable us to discover the molecular basis of physiological outcomes and explain the biological data. Finally, an imaging system will save us significant time and reagents by simplifying development of PCR and western blot results.
BI: IT IS QUITE AMAZING WHAT SCIENTISTS IN UKRAINE ARE ABLE TO DO WITH THE LIMITED RESOURCES AVAILABLE TO THEM.
Oleh: Yes, so can you imagine what we could achieve with the proper equipment and financial support!
BI: OLEH, WE APPLAUD YOU FOR YOUR RESEARCH EXCELLENCE, DEVOTION AND DRIVE IN THE DEVELOPMENT OF BIOTECHNOLOGY IN UKRAINE AND WISH YOU MUCH SUCCESS!
Oleh: Thanks.