This is Rauwolfia serpentina - the Indian snakeroot, devil pepper, or serpentine wood. The cellular biomass grown in the flasks accumulates up to 50 various alkaloids - compounds that have an antihypertensive and antiarrhythmic effect and can potentially be used for the prevention and treatment of cardiovascular diseases.
This species of Rauwolfia got its name due to its miraculous properties as an antidote to snake bites. People in the tropics of India plant it near their homes, but cultivating a home-grown antidote is a slow process: it takes no less then 5 years and the necessary healing substances are contained only in the root.
Scientists at Ukraine's Institute of Molecular Biology and Genetics (IMBG) began studying this plant in the early 1980s.
"Rauwolfia was of interest for use in military medicine, so this was secret research," recalls Dr. Viktor Kunakh, the head of the Department of Cell Population Genetics.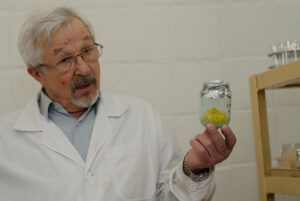 "The alkaloid ajmaline was first used for the prevention and treatment of arrhythmias in pilots, astronauts, and submariners. It was later put into serial production. In Soviet times, this medicinal plant was considered promising. The callus cultures grown in IMBG went into space, where they displayed an ability to grow and reproduce no worse than on Earth."
Other drugs for the cardiovascular system (such as reserpine) were produced (and are being produced) from Rauwolfia serpentinа.
Because there is not enough Rauwolfia (and not only this) medicinal raw material in nature, it is grown artificially. The best way is not to propagate plants, but to stimulate cell division and grow biomass in flasks, which accumulates end-products of biosynthesis - biologically active compounds that have a therapeutic effect (in this case alkaloids, but also ginsenosides, panaxosides, and phenolic compounds in other medicinal plants).
Scientists transfer tiny pieces of roots to a special environment that stimulates cell division and biomass growth.
"We have developed a technology for obtaining Rauwolfia serpentinа alkaloids that can be used in cardiovascular drugs and can produce kilograms of Rauwolfia biomass," says Dr. Kunakh. "So, if necessary, it can go into industrial pharmacological production."
Biomass is completely organic and aseptic since the culture is grown in sterile conditions, and the nutrient medium is prepared by the laboratory staff: they select the appropriate proportions of nitrogen, phosphorus, potassium and other substances necessary for growth.
The rows of glass jars are where the mysterious process of maturation of Rauwolfia biomass takes place. It's matured once it has "eaten" the entire nutrient medium.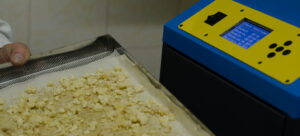 The Rauwolfia is "harvested" on the 60th day, then dried in special dryers for 24 hours, extracted and transferred to pharmacologists for further study.
"Cell biotechnology of medicinal plants and herbal medicines is one of the main directions of our work. We develop the technology for reproducing biomass of any plant as a source of medicinal raw materials in unlimited quantity. From 1 gram of biomass per year we can theoretically get 100 tons of biomass," says Dr. Viktor Kunakh.
"If you select those cells that are productive, the end amount of biomass produced can exceed its content in a natural plant by tens or even hundreds of times."
According to the scientist, this technology of the future can be used not only for the production of raw materials for medicines, but also plant raw materials for any purpose, including food. It can also be used to grow any plants anywhere – in the tropics, arctic and Antarctic, mountains, desert, etc.
The prospects for using these technologies during long space travel are also interesting.
The research being done by the scientists at IMBG is supported by a grant for the "Development of principles of biotechnological production of new antihypertensive and antiarrhythmic alkaloids of Rauvolfia serpentinа" from the National Research Foundation of Ukraine.
Photos by Viktoria Pyeshkova
---
Part 1: Deschampsia Antarctica