For one week this June, Philadelphia, the first capital of the United States, became the global capital of biotechnology. More than 16,000 participants and visitors from around the world gathered in the City of Brotherly Love for BIO 2019 - the largest international biotech and pharma convention.
Sixty-seven countries were represented as were all the leading global pharmaceutical companies. Ukraine was represented by the US-Ukraine Foundation's Biotech Initiative. The Initiative had a booth in the exhibition zone, with the aim of attracting attention to Ukraine's biotech sector. This was the second year running the Foundation took part in the event.
USUF's partners from Up To Future, a Ukrainian technology transfer office, joined the Foundation in promoting Ukrainian science. Their team presented over twenty projects at the booth and at more than a dozen meetings with interested parties from all over the globe.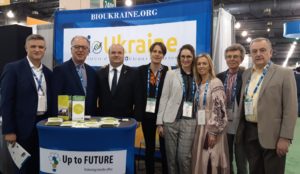 On the first day, the Foundation's booth was visited by a delegation from the Ukrainian Embassy in the United States that included Ambassador Valeriy Chaly, First Secretary for Science Affairs Yegor Dubynskyi and Dmytro Shymkiv, former deputy chief of staff to ex-president Petro Poroshenko. The embassy had provided materials for the display and the group took the opportunity to visit some of the other national pavilions.
The steady flow of visitors to the booth included Ukrainians representing both Ukrainian and foreign companies, such as Syndivia, Nanobotmedical, SMO Group, Mikhailyuk, Sorokolat and Partners, Audubonbio, SGS, and Enamine - to name but a few.
Other visitors, from, for example, Turkey and India, were interested in having the Initiative represent Ukraine at their events later this year.
Other visitors to the BioUkraine booth expressed interest in learning more about Ukraine's biotech sector, opportunities for expanding their businesses into Ukraine, performing clinical trials, supporting Ukrainian institutions such as the newly created National Research Foundation, and other partnering opportunities in the Ukrainian biotech sector.