Stuttgart and Southern Germany, Sept. 24 - Oct. 2, 2019
The training group with Michael Köttner and Winfried Vees, the owner of the Bioenergiehof Weitenau biogas plant
I had a great pleasure to participate in the "proBIOGAS International – Biogas engineering and operating training with plant visits" on September 24th – October 2nd, 2019 in Stuttgart and Southern Germany. This remarkable biogas event was organized by IBBK (International Biogas and Bioenergy Centre of Competence) Fachgruppe Biogas GmbH and the State Institute of Agricultural Engineering and Bioenergy, University of Hohenheim, Germany.
When I came to Germany I saw innovations everywhere. In Frankfurt airport I met a robot that carried passengers' luggage and helped them find the way to the right terminal. People in Germany are conscience and responsible in waste treatment. Garbage cans for the separation of different waste categories are not just in public places - my Airbnb host also showed me how he separates household wastes in his everyday life. In Ukraine, separation, recycling, and utilization of wastes are not so widespread yet, and we need to take examples from developed countries.
The biogas training classes took place at the University of Hohenheim in Stuttgart. Stuttgart is an innovative and industrial city; no other region in Germany registers as many patents and designs as Stuttgart. At the same time, the University of Hohenheim is Germany's top university in agricultural research, food, and nutrition science. The University maintains 5 farms with a total area of 600 hectares, laboratory methane digesters and biogas plant, designed for 20 tons of energy plants and animal waste. The plant provides the farms and the university with heat, and 30 % of the generated electricity is used by the farms, the rest is sold.
Participants from different parts of the world came to the training. Operators, researchers, consultants from France, USA, India, Mexico, Malta, Colombia, Taiwan, and South Africa who have been working in the biogas industry for years and were so knowledgeable in the current status and details of biogas technology.  Speakers were inspiring and eminent in the field. Michael Köttner, Consultant, Senior Expert, the Managing Director of International Biogas and Bioenergy Centre of Competence and CEO of German Biogas and Bioenergy Society, carries out big international projects such as No Agro-Waste funded by Horizon2020. He also organizes and performs biogas trainings across the world including Ukraine and online. Dr. Andreas Lemmer is Deputy Director of the State Institute of Agricultural Engineering and Bioenergy, University of Hohenheim, one of the inventors of the patented laboratory fermentation process to determine quantity and quality of biogas arising from organic break-down in batch process for the Hohenheim Biogas Yield Test. People all over the world send to the University samples to investigate their substrates according to this method.  On the training I met representatives of organizations that are interested in developing the biogas sector in Ukraine. The biogas production industry in Ukraine is only in the initial steps comparing to European countries and especially Germany, the leader of the biogas sector not only in quantitative indicators but also in innovations. Nevertheless, Ukraine is attractive for biogas investments because this technology can utilize huge unexplored agricultural and municipal waste and produces heat and electricity that have a comparatively high feed-in green tariff.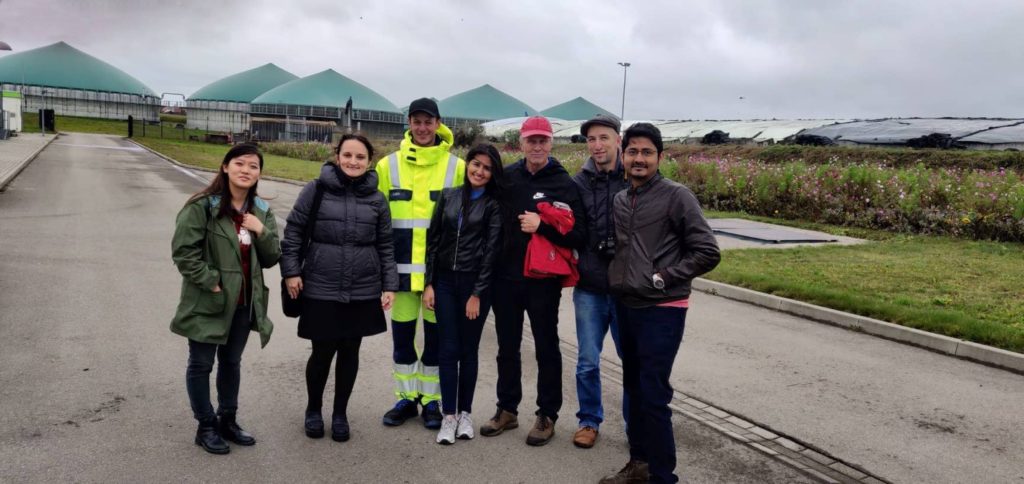 Part of a training group with Michael Köttner and operator at Riedlingen/ Daugendorf biogas plant
A very essential part of the training was visiting 5 biogas plants in Southern Germany. The biogas plant in Riedlingen/Daugendorf was planned and financed by "Bioenergie Riedlingen GmbH", "Erdgas Südwest" and 20 associated local farmers. Nowadays, it is one of the most modern biogas upgrading and injection units, providing 2,450 households annually. It is serving as one of only a few pioneering plants in Germany to make use of the local gas grid and show a path as to what biogas production is capable of.
"Bioenergiehof Weitenau" is a plant with biogas upgrading to CNG-quality (compressed natural gas). Nowadays only 5% of the produced biomethane is used in CNG-vehicles. A Green-CNG gas station for direct marketing of the final product was installed at the plant in 2015. When I went to Germany, I hoped to see a car that can drive on CNG. I was so lucky not only to take a look. Michael Köttner showed how to fill his car with Green-CNG and drove us to biogas plants in this car. His enthusiasm about biogas implementation is reflected in his everyday life.

Michael Köttner shows how to fill the car with BioCNG
It should be mentioned that in Ukraine biogas is used for heat and electricity, and there is no existing biogas plant with upgrading units to purify gas for injecting into the existing gas grid or to use as CNG for cars. This is the way of future improvements; it can make transportation of the biogas product easier, broadening the possible end-uses and attracting foreign investors.
The next two plants that we visited took advantage of the digestate use for fertilizers. To maximize the heat use from his biogas plant, the owner, Mr. Thomas Karle, has built a district heating grid to supply the village of Füßbach with renewable heat. When the district heating started operation in winter 2009/2010, Füßbach was awarded the first "Bioenergy village" in the district. Mr. Karle cooperates with universities and research organizations to find new and feasible ways for farms to produce a diverse range of fertilizers from the digestate, and he also sells fertilizers in the form of pellets. At Mr. Appold's plant digestate dries through vacuum evaporation using the heat from the plant, and volatile nitrogen is bound chemically, producing a highly valuable Ammonium-Sulphate-Solution.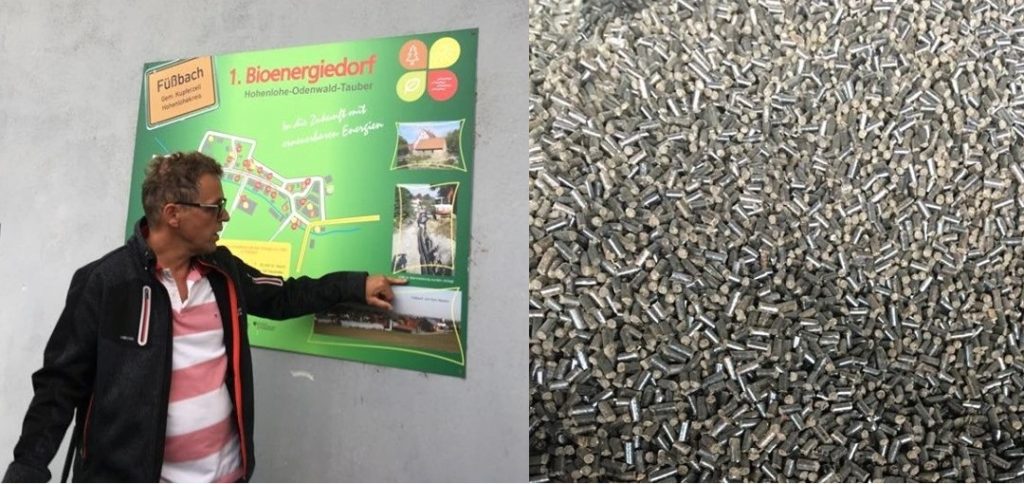 Mr. Thomas Karle, "Bioenergy village", and fertilizer from biogas digestate in the form of pellets
We visited also a plant that utilizes not only energy crops and agricultural plant and animal leftovers, but also food wastes. This topic was of particular interest for me because in my Ph.D. dissertation I utilized wastes of food production via cultivation of medicinal mushroom mycelia. At this plant, I found out that not only mushrooms grow well on expired bread but biogas plants are competitive to get such a good substrate for biogas production. The technology of food waste fermentation into biogas requires proper separation from non-organic materials as well as sterilization of the substrate.
The high priorities of operating biogas plants in Germany are safety and innovations. Instructions, schemes, warning signs, mobile apps to control the plant – all this was designed to make the work of plant operators and owners comfortable and healthy. I was surprised that biogas waste utilization plants have only a slight herbaceous scent. The whole biogas system in Germany is based on thinking of the future, not only profiting today, which is usually much more important for developing countries. Plant owners were talking about technologies, greenhouse gas emissions reduction, waste utilization, and what good they can bring to people.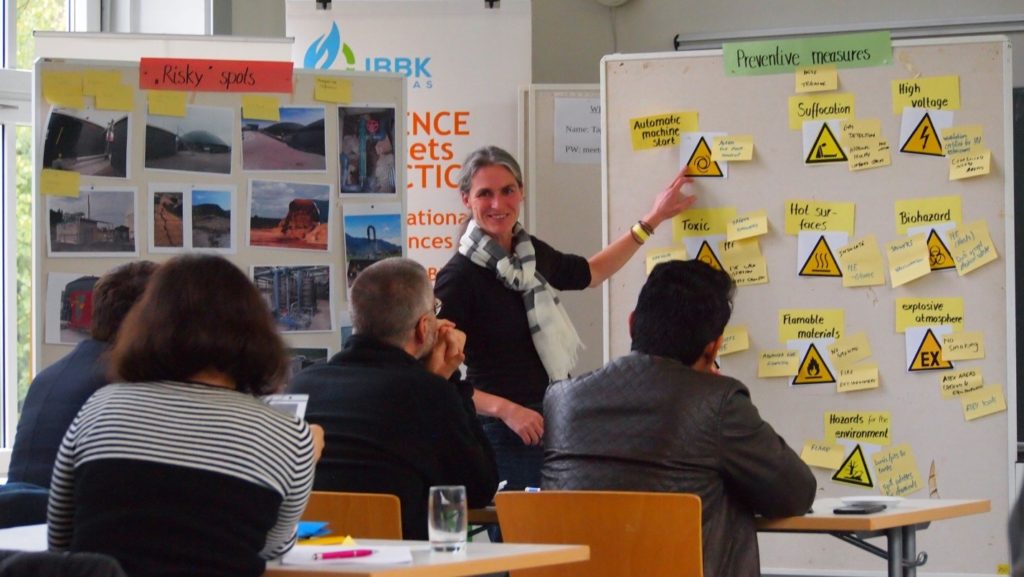 Interactive course of Katrin Kayser from IBBK Fachgruppe Biogas GmbH about safety at biogas plants
I acquired so much new information on the training, and the most familiar part for me as a researcher was visiting biogas laboratories in the State Institute of Agricultural Engineering and Bioenergy, University of Hohenheim. In the biogas lab I met two investigators from Ukraine: project manager Nadiia Nikulina and Ph.D. student Ievgeniia Morozova, whose research is in collaboration with the Institute of Bioenergy Crops and Sugar Beet of the National Academy of Agrarian Sciences of Ukraine. The biogas laboratories, including the technical lab for process development, contain 28 methane digesters with volume from 17 to 400 L, apparatus for the Hohenheim Biogas Yield Test, and all the modern equipment for the experiments that we usually perform in our laboratories. They have a lot of posters from conferences, and I would have walked around like in a museum for a few days but we just had a couple of hours.
I would say that this trip of my dreams came true thanks to a travel grant from the U.S.-Ukraine Foundation Biotechnology Initiative, but I wouldn't even dare to have such a dream. For the grant application, I made my choice of the scientific event I would like to participate in: "proBIOGAS International – Biogas engineering and operating training with plant visits", because in the Laboratory of Biofuel Biotechnology and Innovations in Green Energy of the Institute of Food Biotechnology NAS of Ukraine we started a new project concerning biogas production. Research, development, and implementation of biogas technologies are timely to solve the environmental, economic, and international challenges facing Ukraine.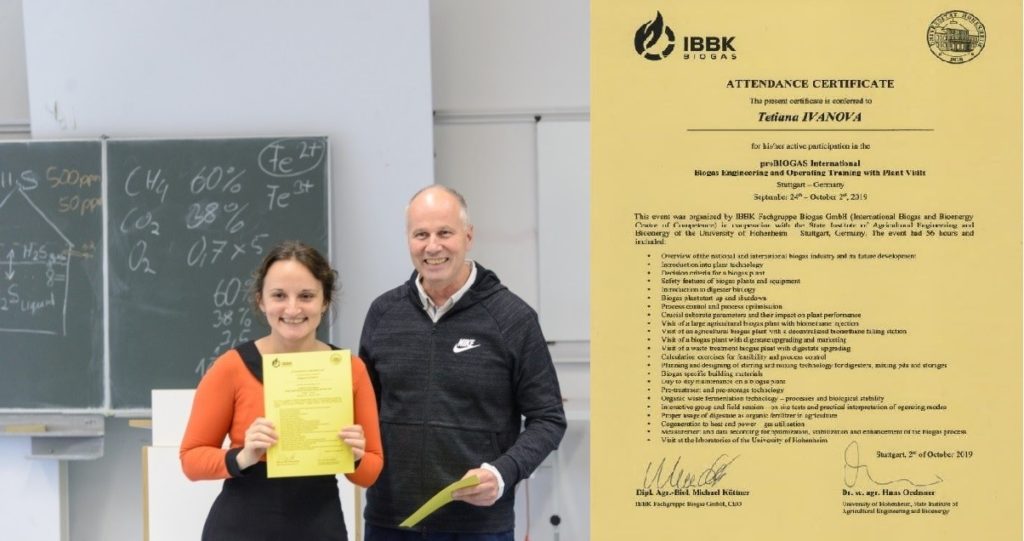 Awarding with certificate for active participation and the list of learned topics
I am very appreciative to the U.S.-Ukraine Foundation and its Biotechnology Initiative for the opportunity to take a part in proBIOGAS International training; to the organizers of the training, International Biogas and Bioenergy Centre of Competence Fachgruppe Biogas GmbH and the State Institute of Agricultural Engineering and Bioenergy, University of Hohenheim; to Michael Köttner who put it all together in the training and added his knowledge and beliefs; to the speakers in the classes, biogas plants, and laboratories, including the Ukrainian researchers for the interesting information and communications; to Tristan Gruszkos who made our participation comfortable and explained a lot about German culture; to all participants of the training for exchanging of knowledge and cultures, we all had a great time together. I hope that this proBIOGAS International training will help to build and strengthen the connections between countries and organizations to elaborate and implement biogas technologies.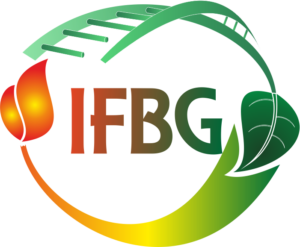 -Tetiana Ivanova, Research Fellow, Laboratory of Biofuel Biotechnolgy and Innovations in Green Energy, Institute of Food Biotechnology and Genomics, NAS of Ukraine
---
Plant Feedstocks and their Biogas Production Potentials
https://openagriculturejournal.com/VOLUME/14/PAGE/219/FULLTEXT/
https://benthamopen.com/ABSTRACT/TOASJ-14-219
Ganna I. Kulichkova1, Tetiana S. Ivanova1, Mihael Köttner2, Oleksiy I. Volodko1, Svitlana I. Spivak1, Sergiy P. Tsygankov1, Yaroslav B. Blume1
1 Institute of Food Biotechnology and Genomics, National Academy of Sciences of Ukraine, Osypovskoho, Ukraine
2 International Biogas and Bioenergy Centre of Competence Fachgruppe Biogas GmbH, Feuersee, Kirchberg/Jagst, Germany