I am honored to acknowledge the US-Ukraine Biotech Initiative for the 2019 travel award which allowed me to present the research of my group in Ivan Franko National University of Lviv at the 3rd International Conference on Natural Product Discovery and Development in the Genomic Era in San Diego, CA, on 11-16 January 2020.
During the 5 days of the conference leading scientists from the US, Japan, Germany, Canada, Switzerland, China, South Korea and Italy discussed current trends in discovery of novel bioactive natural products and the obstacles to their translation into the much-needed drugs to treat different diseases.
In total, there were 43 oral presentations that covered all major sources of novel compounds and all new computational approaches towards genome mining for natural products.
I enjoyed all the talks and will use their content to update the lecture courses on genomics and molecular phylogeny that I teach in the summer semester.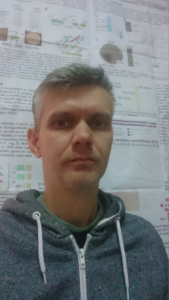 There were also 102 posters of which one was mine. My work, focused on the use of pleiotropic regulatory gene adpA in activation of silent gene clusters of Streptomyces, generated interest in conference participants during all three poster sessions.
A particularly productive discussion with Prof. Kapil Tahlan from Memorial University of Newfoundland, Canada, has led to an agreement to pursue further joint investigation of the technology developed at Lviv University.
Numerous discussions with leading researchers over the course of lunches and poster sessions were also very enlightening.
I can't help mentioning that San Diego enjoys warm sunny climate all year long and is homeport to three US carriers! Visiting memorable places, such as Ocean Pier Beach and USS Midway museum further enriched the value and pleasure of coming to San Diego.
-Bohdan Ostash, Senior Researcher and Professor, Department of Genetics and Biotechnology, Ivan Franko National University of Lviv
---
CONFERENCE POSTER