I express my deep gratitude to the US-Ukraine Foundation, thanks to which I was able to take the "Introduction to CRISPR-Cas9 Genome Editing - Design to Analysis" course (Darmstadt, Germany, Sept 3-6, 2019). This workshop was very useful, eventful and included classroom lectures, which covered all stages of the CRISPR-Cas9 genome editing experiment, and at the same time were very accessible. In addition, and most importantly, numerous hands-on laboratory sessions were conducted during the course (generation of gene knockouts in a human cell line by delivering gRNAs and Cas9 Protein or mRNA into the cell line using transfection reagents and electroporation; knock-in of a targeted SNP change in a fluorescent protein through homology-directed repair; determination of insertion/deletion editing efficiency with a PCR-based DNA mismatch method (Genomic Cleavage Detection Assay) and detection of the SNP change through analysis of fluorescent protein expression).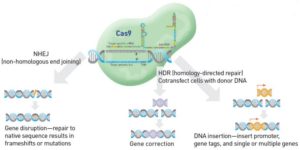 Despite the fact that the course lasted only 4 days, during this time I gained new knowledge regarding the CRISPR method, mastered new methods and even acquired new skills in the laboratory. The course was very eventful and useful for further work.
It is important that there were only 4 students and there were 4 trainers. Thanks to this, each participant was given enough attention and time. The professionalism of all the trainers was felt. In addition, the trainers gave their contacts in case if any questions arise during our own experiments.
The participants also turned out to be very experienced scientists and responsive people who were ready to support and help. I am very glad that I met all these wonderful people!
Many thanks to head trainer Mikhail Okun, who explained everything in detail and supported in case of difficulties during work in the laboratory. Mikhail always very subtly noticed difficult moments for each participant and explained everything in detail. He also kindly agreed to take a photo with me. Unfortunately, according to the rules of the company, everyone is strictly forbidden to take photos in the laboratory and even inside the training center.
Thanks to the US-Ukraine Foundation for giving me this opportunity! Thanks to the USUF Biotech Initiative, I was able to get unforgettable impressions and invaluable experience.
-Anastasiia Rabokon, Sept. 2019