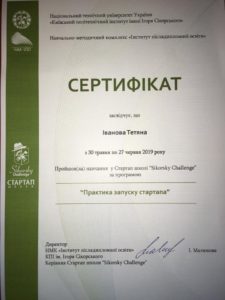 Emerging Biotech Leader Tetiana Ivanova recently graduated from the Sikorsky Challenge Summer Startup School, a program of the National Technical University of Ukraine "Igor Sikorsky Kyiv Polytechnic Institute." Tetiana was one of 9 participants (of 26 total) to present a project after the month-long program "Beginning the Startup: Practice." Her project is "Innovative Nutrient-Rich Media for Growing Mushrooms."
The certificate of completion doesn't mean the work is over - it's just beginning. Next there will be consultations, pitch sessions, contests and festivals. The projects will be entered into the Sikorsky Challenge Innovation Holding Catalog for potential investors, and the best ones will be finalists in the annual Sikorsky Challenge Startup Competition in October 2019.
"Now I have basic knowledge and ideas how to implement scientific results in industry," says Tetiana.
Tetiana has been busy this year learning about intellectual property and commercialization. She completed a distance learning general course on intellectual property from WIPO Academy, and during the spring she also completed a 108 academic hour training program on intellectual property, technology transfer and innovation management (IP Marathon) by the Ukrainian Institute of Scientific and Technical Expertise and Information and the Ministry of Science and Education of Ukraine.
In the IP Marathon competition she presented the development of her Institute: "Utilization of Bread and Alcohol Wastes by Cultivation of Medicinal Mushrooms" and won a certificate providing an opportunity to take part in the Business Academy Program of the UNIDO/GEF Project "Global CleanTech Innovation Program for Small and Medium Enterprises (SMEs) in Ukraine" and receive support for introduction of her startup to investors.
A researcher at the Institute of Food Biotechnology and Genomics (IFBG) of the National Academy of Sciences of Ukraine with a PhD in biotechnology, Tetiana has been recognized by the Kyiv Mayor's Office and the Academy for her professionalism and scientific achievements.
Her work is dedicated to the research of biotechnological process of medicinal mushroom cultivation on liquid nutrient media with wastes of plant processing, biochemical composition of initial substrates and obtaining biomass with biologically active substances for creation of dietary substances and functional foods.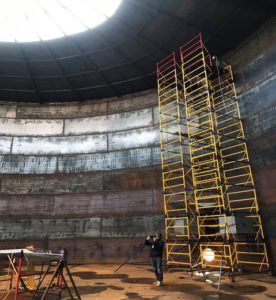 One of the projects in which she participated at IFBG involves biogas production using distillery waste. Biogas technologies are consistent with the principles of sustainable development, since they return the organic substance to the agro-industrial cycle, turning it from the category of waste into the category of fertilizers, reduce the emissions of greenhouse gases and produce biogas, which is an essential renewable energy source.
IFBG signed an agreement with the company Eco-Energy for the construction of an experimental tank for biogas fermentation of complex substrates made of bioethanol wastes (vinasse) and related plant biomass.
Tetiana is the inventor of Ukrainian patent #118997 "Nutrient-Rich Media for Cultivating Medicinal Mushrooms that Contains Molasses Bard," which IFBG obtained in April 2019.
Unfortunately for Tetiana and other Ukrainian innovators, the Ukrainian patent office recently announced that protection of IP rights would be more expensive starting July 19. According to decree #496 of the Cabinet of Ministers of Ukraine, utility model fees will be 12 times more expensive, and patent fees will be 4 times more expensive for non-commercial organizations and private persons.
"We had only one month after the publication of the decree (on June 19) to apply for patents and utility models using the current prices," says Tetiana. "Such changes are very strange in the middle of the year, because non-commercial organizations (scientific institutes and universities) usually have financial plans for the year ahead. So if an institute planned to support the operation of 60 utility models, it can now support only 5 for the same money."
"A significant increase in fees for intellectual property protection in Ukraine contradicts Article 230 of the Association Agreement between the European Union and Ukraine, according to which measures, procedures and remedies necessary to ensure the enforcement of intellectual property rights shall not be unnecessarily complicated or costly," she adds.
The Committee on Intellectual Property of the Ukrainian Public Organization "Association of Lawyers of Ukraine" concluded that the unreasonable increase in fees may lead to the destruction of inventive activity in Ukraine.
A petition has been started to cancel the decision to increase state fees for actions related to the protection of rights to intellectual property objects. 25,000 signatures are needed.