Investigating the issue of the molecular genetic basis of the flax fiber formation with PCR-diagnostics
Flax fiber is widely used in production. Linen fabrics for household use - bedding, tablecloths, etc. - are beautiful, durable, and hygienic. Linen's ability to absorb moisture and breathability make it a good material for clothing. Linen underwear and outerwear in hot weather cool the human body and thus reduce fatigue. With this in mind, linen clothing becomes most important in both dry and hot climates. In linen, people are less likely to catch colds. The high hygroscopicity of linen fiber makes linen fabrics indispensable in the manufacture of towels. The pleasant shine inherent in the fiber by nature, the ability of linen fabrics to withstand washing well, while acquiring softness and elasticity, provide extensive use of linen fabrics for the manufacture of table linen – tablecloths and napkins.
Thanks to a small research grant from the US-Ukraine Foundation Biotech Initiative, our laboratory at the Sumy National Agrarian University obtained a thermal shaker and micro pipets to be used in our research on the molecular genetic basis of flax fiber formation. With the new equipment we were able to germinate flax seeds for further DNA isolation (Figure 1).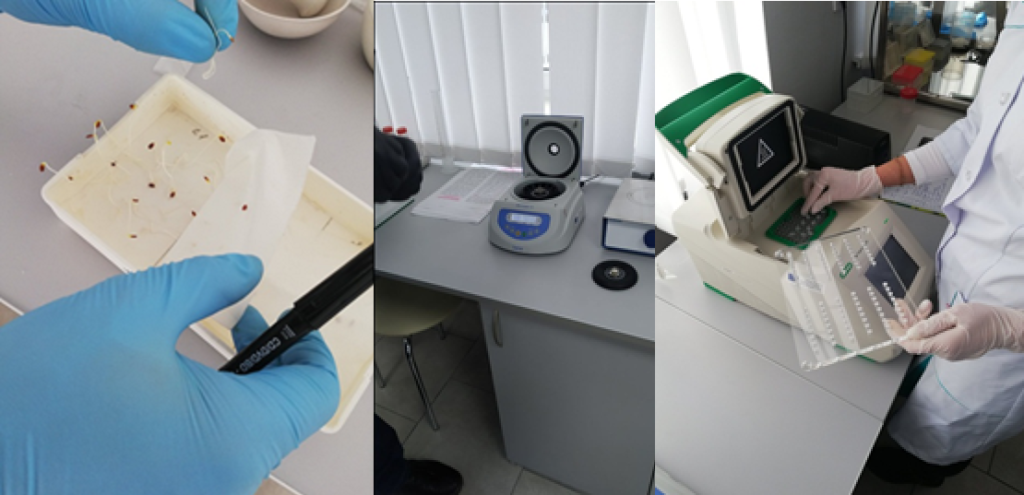 Figure 1. – Isolation of DNA out of flax seedlings and it's amplification in the thermal cycler.
DNA was isolated using a special lysis buffer, which was made on deionized water. Tubes with the DNA preparation were mixed at constant temperature in a thermal shaker.
This research allows to solve a number of selection and economic problems:
Methods for diagnosing the activity of cellulose synthesis genes will be included in existing flax breeding programs. They will also allow the selection of source material directly with the help of appropriate genetic markers, which will significantly improve the quality of selection.
Enable to obtain high-quality fiber (current cost is $ 1,000 per ton). It will increase the profits of flax-bearing farms and provide the industry with hypoallergenic spinning stuff.
Figure 2. – Slice of flax stalk with mechanical and conductive fabrics. PCR reaction results (RAPD genotyping).
Purpose of the research
Detection of inheritance features of the content and quality of the fiber and resistance to falling out.
Materials used
Seeds of flax (Linum usitatissimum L.) and raw components
Tasks
Investigating the gene pool of samples of the National Collection of Flax as Donors of Genetic Features.
Genetic analysis of the inheritance of the main economic features of flax.
Research the features of variability and inheritance of these characteristics in hybrids.
Determination of genetic constructs for further DNA-marking.
Expected results
Creating genetic maps of flax.
Creating a bank of germplasm of different varieties and species of flax as genetic donors of basic economic traits.
Genetic labeling of the main economic characteristics of flax for successful selection.
- Ihor Vereshchahin, PhD, Sumy National Agrarian University 
SNAU Profile
Google Scholar
ORCID
Research project:
Determination of genetics of quantitative traits of flax (state registration: 0119U103780)